Cart
Mississippi's Delta BBQ Carts are genuine Southern cuisine on wheels. Perfect for parties and events. Put some South in your mouth!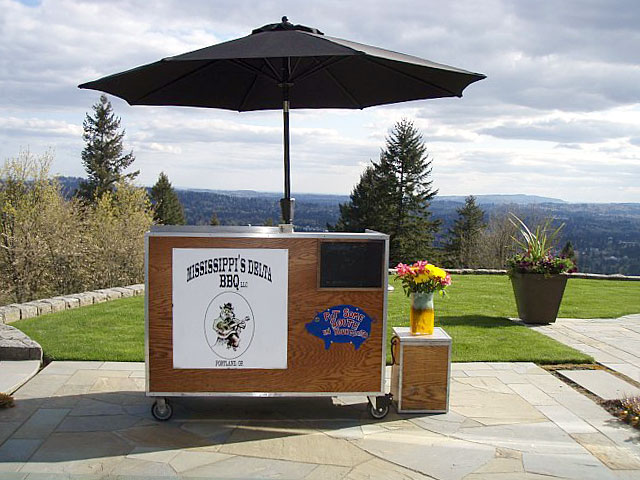 Carts available for events an functions by appointment
Contact us for more information.

"Discovered this gem on a lunch break downtown and have not been disappointed since! I've ordered the pulled pork and brisket and both are amazing. I've eaten BBQ all over the country and this is as good as almost any I've had in TX, AR, or the Carolinas.
The two guys that run the place are extremely personable and work their tails off! GO EAT THERE."
— David H.

"I'm actually still eating the food, but it's so good that I can't NOT post a review immediately.
I had a 'Sippi Bowl with garlic lime slaw, pork, and brisket with the Carolina BBQ sauce.
I feel like my life has been changed and I'll never be the same- I mean that in a real kind of way.
This is, without a doubt, the best southern food I've had in YEARS.
I would recommend it to anyone in the mood for what rivals mama's cookin'."
— Brittany W.

"Best food cart on PSU campus!
Friendly operators, amazingly yummy food, and great sized portions for the price. My favorite is the smoked chicken bowl with the macaroni salad! I like to eat the chicken first and then mix the mac salad and the Cajun style rice together."
— Casey Y.

"I'm an Alabama girl. Born and raised. I've been in search of a good BBQ pulled pork sandwich since moving here. There's a lot of restaurants around here that claim to be 'Southern.' Most of their BBQ is mediocre and overpriced (10 bucks for a sandwich at one place). But this food cart is legit and has great prices! My pulled pork sandwich with sweet BBQ sauce was amazing! You can specify what sauce you want. It was so tender and smokey without any gross gobs of fat. The meat was packed in there and the bun was fresh and soft. And it was only 5 bucks! They also have beef brisket, which I've heard is heavenly."
— Morgan W.